Events
Now, an exhibition about Genji-monogatari-emaki is open in tokyo.
Genji-monogatari-emaki are composed some pictures and texts of The Tale of Genji.
They are Japanese national tresures.
They are the oldest emaki about these story.
The exhibition open until November 28, 2010.
And it is at Gotoh-museum in Kaminoge, Setagaya city, Tokyo.
You can take a train, Tokyu Oimachi Line.
You should get off at Kaminoge station.
Then, walk about 5 minutes.
If you know about this exhibition, you can see museum's official website.
Gotoh-museum
May be it is Japanese only, but it has a lot of pictures.
Gotoh-museum will be closed from November 29, 2010 until 2012 for repair work.
Please don't forget or mistake.
[November 19, 2010]
I went to Gotoh-museum yesterday.
Genji-monogatari-emaki were fantastic.
I enjoyed this exhibition.
Incidentally, Genji-monogatari-emaki are discolor with age.
At the exhibition, there restored replicas are exhibited together.
There are reproduced appearance about hundreds years ago when they painted.
I saw both pictures and papers written story.
But story papers are not restored.
I thought they were painted picture too
because I saw imprints like lines drawed mountain or waves
or painted clouds.
I do not have heard reference about them.
What are they?
Now, a train belong to Tokyu Oimachi Line has a special mark designed Genji's character.
this mark is set front and back the train.
I could not take picture the train.
But I got stickers designed this mark.
This picture is it. You could see large picture when you click these pictures.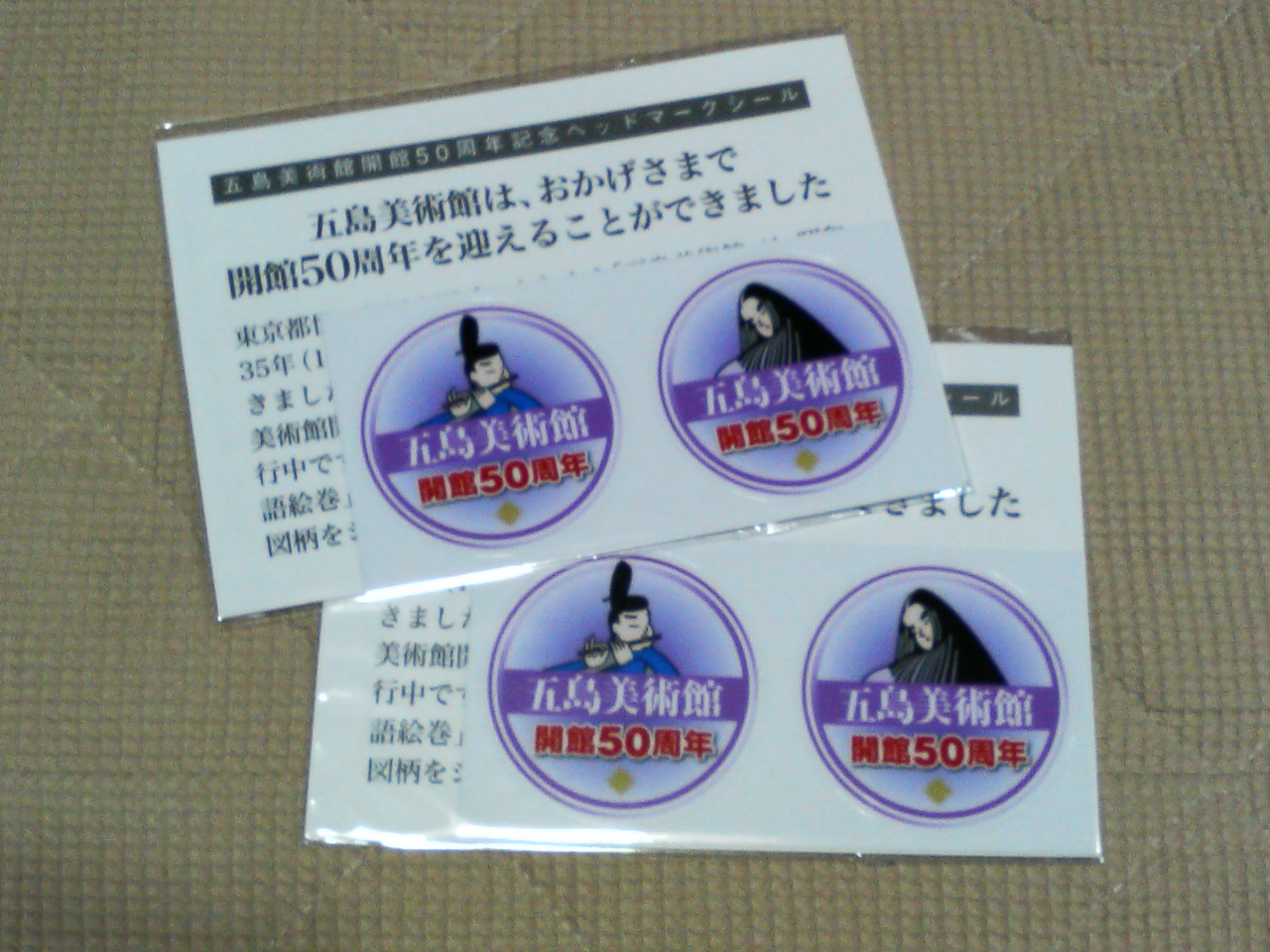 (Letters printed on these mean "the 50th foundation anniversary of Gotoh-museum". )
In Japan, sometimes events like this are took place.
Maybe you think these characters are Hikaru-Genji and Murasaki-no-ue.
But they are Yugiri (Hikaru-Genji's son) and a Nyobo (female upper lank servant).
I do not know Nyobo's name.
She does not have her name in this story.
Perhaps her name is Ms.Smith.
Both pictures from Japanese national tresure Genji-monogatari-emaki.
I think there are not nice pictures Hikaru-Genji and Murasaki-no-ue.
So the designer who designs those marks chooses these characters.
[November 27, 2010]